Foodies Unite
Foodies love food, tasty desserts, and Sweeties On the Creek! Sweeties ice cream and frozen desserts, made with fresh, high quality, natural ingredients, and fun special flavors, are always a winner! Our creamy ice cream rises above all things good and pure. Pure. Simple. Delectable.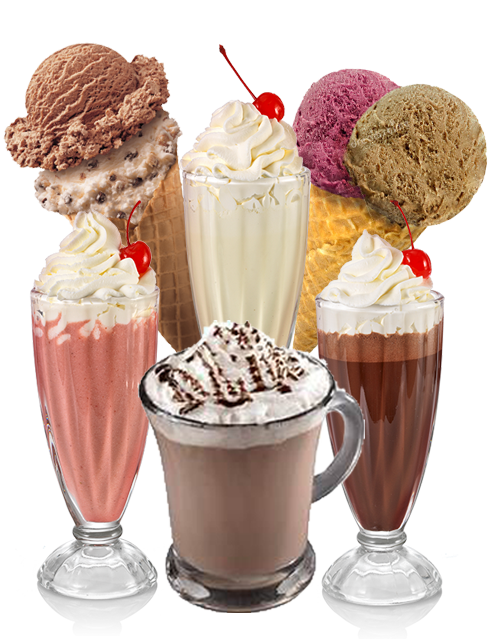 Sweeties proudly makes our high-quality specialty ice cream right here in Downtown Frederick. Our extensive collection of flavors includes all-natural selections as well as gluten free and dairy free options. Now everyone can enjoy delicious frozen treats at Sweeties!
Almond Joy
Apple Pie
Balsamic Strawberry
Black Cherry
Black Raspberry Choc Chip
Black Raspberry
Blueberry Blast
Bubble Gum Yum
Butterscotch Bliss
Butter Finger Crunch
Butter Pecan
Cake Batter
Campfire Coffee
Campfire S'mores
Caramel Caribou
CC Cookie Dough
Cherry Blossom
Chocolate
Chocolate Almond
Chocolate Cherry
Chocolate Chip
Chocolate Covered Banana
Chocolate Lovers Chocolate
Chocolate Marshmallow
Chocolate Orange
Chocolate PB Cup
Chocolate Toasted Coconut
Cinnamon
Coconut
Coffee Heathbar Crunch
Colombian Coffee
Cookie Dough Coffee Break
Cotton Candy
Creamy Dreamy Cupcake
Cookies 'n Cream
Dirty Martini
Double Dunker
Dutch Chocolate
Fly Fishing Fudge
French Vanilla
Fudge Ripple
German Choc Cake
Graham Slam
I Scream For Cake
Kit Kat Coffee
Lavender Honey
Lemon Sorbet
Luscious Lemon
Maine Black Bear
Maine Lobster Tracks
Mallo Cup
Mango Sorbet
Maple Bacon
Maple Walnut
Mint Chocolate Chip
Mint Cookies & Cream
Mint Moose Tracks
Mississippi Mud Pie
Monkey Butter
Moo-Slide
Muddy Boots
Old Fashioned Vanilla
Orange Cream Swirl
Orange Sorbet
Party Cake
PB & J
Peanut Butter Craze
Peanut Butter Paradise
Peanut Butter Reeses Pieces
Peanut Butter Ripple
Peppermint Stick
Pina Colada
Pistachio
Pralines & Cream
Pumpkin
Raspberry Ice Cream
Raspberry Pomegranate Sorbet
Raspberry Sorbet
Rocky Road
Rum Raisin
Salted Caramel Cups
Sea Salt Caramel Bacon
Sea Salt Caramel Malt
Snicker Snak
Southern Peach
Strawberries & Cream
Strawberry
Strawberry Banana
Strawberry Cheesecake
Super Swirl
The Crazy Monkey
Tigers Eye
Tigers Eye Sorbet
Toasted Coconut
Vanilla
Vanilla Bean
Very Berrylicious
Watermellon Cream
Watermellon Sorbet
Wildfire
Dairy Free:
Froconut
Chocolate Froconut
Cookies n Cream Froconut
Yum Great little ice cream shop! The shop owner stopped to talk to us and tell us about the ice cream they offer. It was so delicious and such a cute little store.
I scream you scream we all scream. This was the perfect treat on a very hot day while walking down by the river. While small they had enough ice cream flavors that even me as picky as I am I found a cool little treat.
Great ice cream On a hot day this stop is a true must stop and partake. The flavors provided and excellent delicious selection.
Excellent experience. When we identified a nut allergy before scooping staff stopped and got a new scooper to ensure no tree nut remnants. All this, and the ice cream was delicious!
Good Ice cream. Its on the waterfront and near other restaurants. The ice cream is very good and its nice to sit and either walk on the waterfront while you eat it.
Still a great way to finish the day Serving sizes are generous, the staff is friendly, and the location along the Carroll Canal Park is great. They also sell candy.
Love the decor around its so cute and the ice cream is so good
The ice cream here is "homemade" as in made in the store. There are always new flavors and, of course, I never met an ice cream flavor I didn't like.
Great service and very good ice cream! The employees were very nice and had a great selection of merchandise.
I have always been. Fan of home made ice cream and this place does not fail to impress. Love where it is located. I recently found out this part of Frederick and it is amazing to sit by the waterside and dig into some fresh flavors of ice cream to beat the summer heat. I tried the Dutch chocolate, southern peach and peanut butter and reese's. Liked each one of them.
Their key-lime pie ice cream is good, It even had bits of pie crust in it, I recommend this place if you love good homemade ice cream.
Delicious locally made ice cream and sorbet!!!
Ice cream and candy haven - If ice cream or candy are your thing, this is the place to go. My kids have tried several of Sweeties' candy offerings, and loved them all. We've also visited Sweeties' countless times for their ice cream, whether it's a float (my favorite) or milkshake or waffle ice cream (my kids' favorites). Eating their ice cream and walking down the Carroll Creek is just a quintessial Frederick experience and worth every dollar.
Hands down, one of the best ice cream places in Maryland. Try the lobster tracks or graham slam and you won't be disappointed!
If you love ice cream, you really need to visit this place! We stopped in after eating a big lunch nearby and needed some ice cream to celebrate a great meal. Now, I love ice cream and have eaten it around the world from Hong Kong to Washington, DC and from Rhodes, Greece to Venice, Italy to Scotland. Some was good, some "Different" (like the octopus ice cream in Japan), some was like dining in heaven, and the varieties were as varied as the country I was in. Sweeties has, and I am not kidding you, at least 12 different cones to have your ice cream put into. They had about 30 different flavors to try and if you wanted you could get a little spoon taste test to help you decide which flavor you wanted to buy. I have not had Maine maple walnut ice cream in years and then it was in Bar Harbor, Maine! They had it here, and it was just as good! My wife had monkey butter (strong banana flavor) and loved it! So I would not hesitate to recommend Sweeties to the ice cream lovers in the area.
I had the chocolate marshmallow ice cream and it was great! I appreciate that it's all home made and friendly staff
Excellent service and amazing ice cream!
We had just come from the Library when we saw the sign, 'Eat Dessert First'. It was before dinner and I was lured inside. A masked attendant helped us choose among the 20+ flavors and I spotted Chocolate peanut butter and caramel crunch while my wife choose chocolate chip mint and peppermint . We ate outside under their umbrella table. For us, it's a rare treat at $4 each for a small. It was a large amount and wonderfully rich, and no dessert after dinner tonight.